6.30pm-8.00pm Thursday 1 September 2016   Start: Monument tube station – Fish Street Hill (exit), London, EC3R 8AH

First Thursday each Month
Walk, talk, recite, write haiku
Foot powered poems
Free form walk in which you get to write and inspire others to write haiku.  With the option to have them printed and published in a zine – as an anthology from each walk (see below). Starting points and routes to evolve over the year.
The First Thursday of September haiku walkshop takes place on the eve of the 350th anniversary of the Great Fire of London – the plan is to map the eastern boundary of the fire.  Samuel Pepys provided a contemporary commentary on the spread of the fire and many other writers, artists and performers have tackled the topic of the Great Fire. How can one encapsulate all the goings on in a 3 line poem, 350 years after the event? – we know this will be a hot-footed creative challenge – if you think you are up for it, then come and join in.
Whether you are a novice or a dab hand at writing haiku, come and join the fun.
Hot-footed challenge:
In just a 3 line poem
Contain the Great Fire!
Join us for this free walkshop beginning outside the Fisher Hill Street exit of Monument tube station EC3R 8AH  at 6.30-pm – 8.00pm Thursday 1 September. Numbers are limited – to guarantee a spot book in advance on line here – if spaces are available, you could chance it and drop in on the day.
The plan is to have a selection of haiku with which to celebrate life on foot, living in London, and National Poetry Day (that falls on the First Thursday in October, 2016).
Download details of what happens on a First Thursday: Haiku_walkshop


Free – limited numbers however, so please  – Book here for haiku walkshop
If you can't join in on the day, we are happy to receive Tweeted haiku @museumofwalking
#575onfoot
We hope to resurrect our haiku walks wordpress site in due course, that will allow you to submit haiku via on on-line form.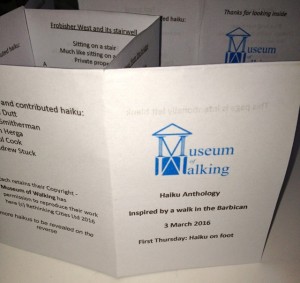 Details of the haiku zine will be discussed on the walk.
Download current and past zines here:
Print on both sides of an A4 sheet the 2 page pdf:
Then download this handy crib sheet to making your very own zine – all you need is a pair of scissors and the sheet of A4 paper on which you have printed the 2 page pdf.

Here are comments from previous participants:
What did you most enjoy?
Being inspired to write haiku
Novel – never done this before
Thinking about familiar places in new ways
The location was great and the group was such fun
A beautifully creative way to spend an evening
What was the most surprising thing? 
I got into it – I was wary at first
I had so much fun
The variation and feeling achieved in such short verse
Details of forthcoming

First Thursdays

:

Haiku on foot
Thursday 6 October – celebrating National Poetry Day