6.30pm-8.00pm Thursday 6 October 2016   Start: London Metropolitan Archives, 40 Northumberland Street, London EC1R 0HB (midway between Angel or Farringdon tube stations) Finish: The Charterhouse EC1M 6AN (close to Barbican tube station)

First Thursday each Month
Walk, talk, recite, write haiku
Foot powered poems
Free form walk in which you get to write and inspire others to write haiku.  With the option to have them printed and published in a zine – as an anthology from each walk (see below). Starting points and routes to evolve over the year.
Celebrating National Poetry Day we are off to Clerkenwell, to step back through time, with the help of the London Metropolitan Archives and The Charterhouse. Walk with us composing haiku, through one of London's oldest market and tradesmen's neighbourhoods – we will walk from the present day back to the foundation of The Charterhouse 660 years ago.
From the LMA
Haiku time travellers walk
To the Charterhouse
This event draws our haiku walkshops this season to a close – whether you are a novice or a haiku expert, this is a wonderful opportunity to join others having fun capturing London's heritage in just 3 lines and 17 syllables.
The plan is to have a selection of haiku with which to celebrate life on foot, living in London, and National Poetry Day (that falls on the First Thursday in October, 2016).
Download details of what happens on a First Thursday: Haiku_walkshop


Free – limited numbers however, so please  – Book here for haiku walkshop
If you can't join in on the day, we are happy to receive Tweeted haiku @museumofwalking
#575onfoot
We hope to resurrect our haiku walks wordpress site in due course, that will allow you to submit haiku via on on-line form.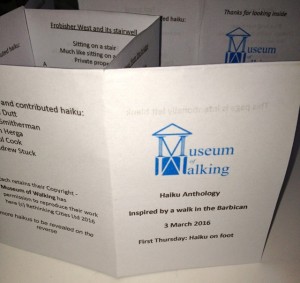 Details of the haiku zine will be discussed on the walk.
Download current and past zines here:
Print on both sides of an A4 sheet the 2 page pdf:
Then download this handy crib sheet to making your very own zine – all you need is a pair of scissors and the sheet of A4 paper on which you have printed the 2 page pdf.

Here are comments from previous participants:
What did you most enjoy?
Being inspired to write haiku
Novel – never done this before
Thinking about familiar places in new ways
The location was great and the group was such fun
A beautifully creative way to spend an evening
What was the most surprising thing? 
I got into it – I was wary at first
I had so much fun
The variation and feeling achieved in such short verse
Details of forthcoming

First Thursdays

:

Haiku on foot
Thursday 6 October – celebrating National Poetry Day