From 4.00pm and 6.30pm – 8.00pm TUESDAY 5 September, 2017 – Brighton Town Hall, Bartholomew Square, Brighton, BN1 1JA followed in the evening at The Cricketers, public house in Black Lion Street, BN1 1ND
This September event will be an opportunity to try some field recording as well as trying out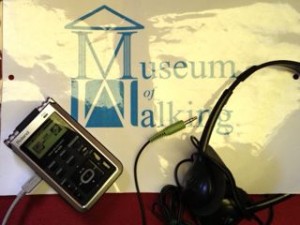 audio walks, and getting practice in devising audio walks and soundscapes.  We are off to Brighton on TUESDAY 5th September, where the City Council is providing us a fantastic opportunity, by making the Town Hall available during the afternoon, and then arranging a pub meet up at nearby The Cricketers. So this is now an all-weather event (unlike June!) as we can use the Town Hall as a recording site or step outside.  If you have field recording equipment we would ask you to bring it.`
Join us for relaxed informal discussions about field recording, audio walks, soundscape composition, immersive performances, geo-located media and digital live art performances, in which we share ideas, compositions and walks and explore how sound (and video) can contribute to an enhanced experience out and about on foot.
Taking place on the First Monday of every month (although September's is on a TUESDAY); whether you are novice or an expert, producer, performer or interested participant, do come and join in. The content of the events are decided upon by the participants, but follow a pattern, of a talkshop one month, the following month, by walkshops (testing our audio, geo-located, or sound walks or undertaking some field recording), and the third month by a listening salon in a 3D sound suite.
An agenda for each Salon will be devised at the preceding month's event, otherwise it is an informal discussion.  There is no charge – all we ask is that you let us know if you are coming by registering here and telling us about your areas of interest and any works you may have recorded or composed.  When an opportunity occurs we may go outside to field test or make recordings. Please bring your own headphones and sound player.
This September event is an opportunity for you to meet, talk and share knowledge and tips on making field recordings and planning what recordings to use to create or enhance an existing audio piece / walk. If you have field recording equipment we would ask you to bring it.
The talkshop venues may not have technical provision for listening to recorded pieces – if you know of a venue that would offer such facilities every quarter, please let us know.
Book here: https://sound-salon-sep17.eventbrite.co.uk
On the registration form we will ask you to provide 2 sentences that we will include in the list of participants to be shared before the event – one sentence for you to introduce yourself and one sentence for why you want to come – this will help speed up introductions.
We will also ask if you are happy for your e mail address to be included along with your 2 sentences, to ease networking amongst participants.
Do please tell us what recording equipment you will be bringing.
Do please add any other information you feel may be pertinent, including works you may have composed, or themes you would like to have discussed.
If you can't make it, but would like to contribute the Sound Salon, then please complete this short survey: https://www.surveymonkey.co.uk/r/QDWBCPN
Download SoundSalon_ResourceList_Mar17 shared at the March 2017 Sound Salon.
For the Festive period, we compiled a list of geo-located and audio walks offered in London from suggestions of Sound Salon supporters and the Museum of Walking community – you can download it here
Whose idea was it to start the Sound Salon?
Andrew Stuck – Walking Creative and publisher of Talking Walking – podcast interviews of artists and professionals involved in walking.
Nigel Bristow – Film Director and Lecturer in Film and Stage drama at Goldsmith's, University of the Arts, London.
Ian Thompson – Lecturer in Sound Design at University of Greenwich
Thanks to Natasha Lohan, producer of the Nunhead Album for providing the name for these regular events.