With financial help from more than 70 individuals in a crowdfunder campaign,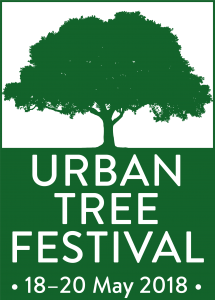 and match funding from Trees for Cities the first ever Urban Tree Festival came to fruition over a weekend in May 2018.
We are hoping to build on the success of the Festival in May 2018 and are developing a 5 year plan, as part of this process we are inviting people to participate in a series of Urban Tree Talks beginning in October 2018 – the first has a theme on 'local action'.
Read more about THE URBAN TREE FESTIVAL 18-20 May 2018 – produced by the Museum of Walking with the participation of TiCL Media Ltd. and supported by Trees for Cities.

Who doesn't love a tree? And we all have a favourite. Perhaps it's one you walk by regularly.  We've been marvelling at the Mimosa tree this month and we know that soon the blossoms will be out lifting hearts and adding comfort to the urban dweller.  And then it will be the Magnolia. How lucky we are to have so much beauty on our doorsteps.
Imagine how bare a city would be without our trees. We say 'our trees' as our hearts  open as we experience the healing and health benefit that trees provide.  Just looking at trees can be inspiring and calming. We are constantly in awe of street trees, how they transform the concrete and sometimes drab urban environment.  How a tree can capture our reflective and spiritual  nature is also something we cherish. Being among nature and trees we find peace, reduce the mental chatter and  relieve stress that we all experience.
Trees have an ability to lift our spirit and connect us to our higher sense, we wonder at their beauty and grace and marvel at their adaptability to persevere among the pollution and grime of inner city dwelling.
We hope you will agree that a celebratory festival of URBAN TREES is a cause worth supporting.
Upcoming Events
No events in this category