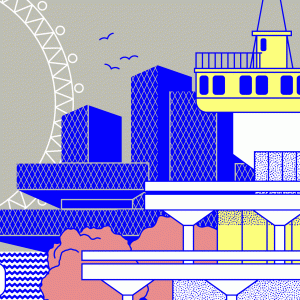 In association with the Architecture Foundation and the London Architecture app.
The Museum of Walking are delighted to be working with the Architecture Foundation in delivering three architecture walking tours in London: themed on the Architecture of Life, of Money and Power.
Each tour has been curated by the Architecture Foundation and last approximately 2 hours and can be booked either through the London Architecture app or by clicking here to the London Architecture website.  Various dates are being offered, initially on weekends through the autumn.
​​The Architecture​ ​of​ ​Life​ ​is​ ​a​ ​walking​ ​tour​ ​exploring​ ​the cultural​ ​and​ ​artistic​ ​landmarks​ ​of​ ​London's​ ​South​ ​Bank.​ ​The​ ​event​ ​tells​ ​the​ ​story​ ​of​ ​how​ ​the UK​ ​capital​ ​reinvented​ ​itself​ ​in​ ​the​ ​mid-twentieth​ ​century​ ​as​ ​a​ ​democratic​ ​and​ ​international centre​ ​for​ ​design,​ ​creativity​ ​and​ ​tourism.
The Architecture​ ​of​ ​Money​ ​is​ ​a​ ​walking​ ​tour​ ​exploring the​ ​City​ ​of​ ​London.​ ​From​ ​its​ ​Roman​ ​foundations,​ ​through​ ​medieval​ ​origins​ ​and​ ​right​ ​up​ ​to​ ​its present​ ​status​ ​as​ ​a​ ​global​ ​financial​ ​centre,​ ​the​ ​walk​ ​takes​ ​in​ ​the​ ​towering​ ​blocks,​ ​ancient landmarks​ ​and​ ​mysterious​ ​alleyways​ ​of​ ​this​ ​remarkable​ ​and​ ​enduring​ ​fortress​ ​city. Walkers​ ​will​ ​witness​ ​the​ ​latest​ ​wave​ ​of​ ​bold​ ​new​ ​architecture​ ​transforming​ ​the​ ​district, including​ ​the​ ​Rothschild​ ​Bank​ ​headquarters​ ​by​ ​cutting​ ​edge​ ​theorist​ ​Rem​ ​Koolhaas,​ ​Norman Foster's​ ​Bloomsburg​ ​Headquarters​ ​and​ ​the​ ​One​ ​New​ ​Change​ ​shopping​ ​centre​ ​by​ ​French architect​ ​Jean​ ​Nouvel.
The Architecture​ ​of​ ​Power​ ​is​ ​a​ ​walking​ ​tour​ ​exploring historic​ ​Westminster​ ​–​ ​the​ ​home​ ​of​ ​British​ ​monarchy​ ​and​ ​democracy.​ ​Starting​ ​outside​ ​the imposing​ ​façade​ ​of​ ​Buckingham​ ​Palace,​ ​the​ ​walk​ ​delves​ ​into​ ​London's​ ​royal​ ​precinct​ ​where hidden​ ​architectural​ ​gems​ ​include​ ​the​ ​home​ ​of​ ​Prince​ ​Charles,​ ​Clarence​ ​House,​ ​the​ ​official residence​ ​of​ ​the​ ​Queen,​ ​St​ ​James'​ ​Palace,​ ​and​ ​the​ ​headquarters​ ​of​ ​the​ ​Commonwealth Secretariat,​ ​Wellington​ ​House. The​ ​tour​ ​will​ ​last​ ​for​ ​two​ ​hours,​ ​beginning​ ​at​ ​the​ ​The​ ​Diana​ ​Fountain,​ ​Green​ ​Park​ ​and​ ​ending at​ ​Trafalgar​ ​Square.
To read more regarding the content of the tours, starting locations, times and dates or to book, please follow this link to London Architecture